Welcome to I Swear By This, an interview series where we talk to our favorite fashion, beauty and entertainment insiders about the beauty products they use to the last drop. After the release of his deluxe album, 333we asked Tinashe to share the beauty products she holds in her rotation.
Tinashe is in her own lane. Her sound swings between moody and ethereal with adjacent lively pop tunes and sensual R&B. She flexed her range of hers on the new deluxe drop of her fifth album of hers, 333 (named after his numbers, of course), but Tinashe's versatility isn't limited to its sound. Her approach to beauty is also multifaceted, as evident from the contrast between the project's original and deluxe covers. Below, she breaks down the beauty philosophy behind it 333discusses her collaboration with Eva NYC and shares the eight products she can't get enough of.
How did beauty play a part in shaping the narrative of each album?
"My looks and my visuals are an important part of how I tell my stories, whether it's on stage, in a music video or on my cover. So obviously beauty ties into that because, whether it's makeup, hair products or fashion, it gives me the ability to play different parts of my personality or different characters that I highlight in my songs. It allows me to have another level of creativity ".
When you were outlining what you wanted to express 333what was on your makeup mood board?
"It starts with the music and then we go into the images from there: how I want it to look and how I want it to look to tell the story. For 333I had a different view of what I wanted the original and deluxe cover to look like.
For the original, the project was about spirituality, awakening, having a new perspective on things and a feeling of being able to let go of some old things that are holding you back. These were important themes to me, so I wanted my beauty and coverage to look really fresh and natural – natural curls and natural skin. I wanted to see the freckles and make it look like all the beauty came from within.
For the deluxe version, I wanted to show a downside: a slightly darker side, a darkness juxtaposed to the light. For example, step out of this alternate reality or step out of a certain size or mold and show the man behind the curtain. With that, from a beauty standpoint, I wanted it to look a little darker and a little more edgy, so I took off my brows and wanted all the hairstyles to be really smooth and dark. I wanted to look like I came from the future, like a robot. "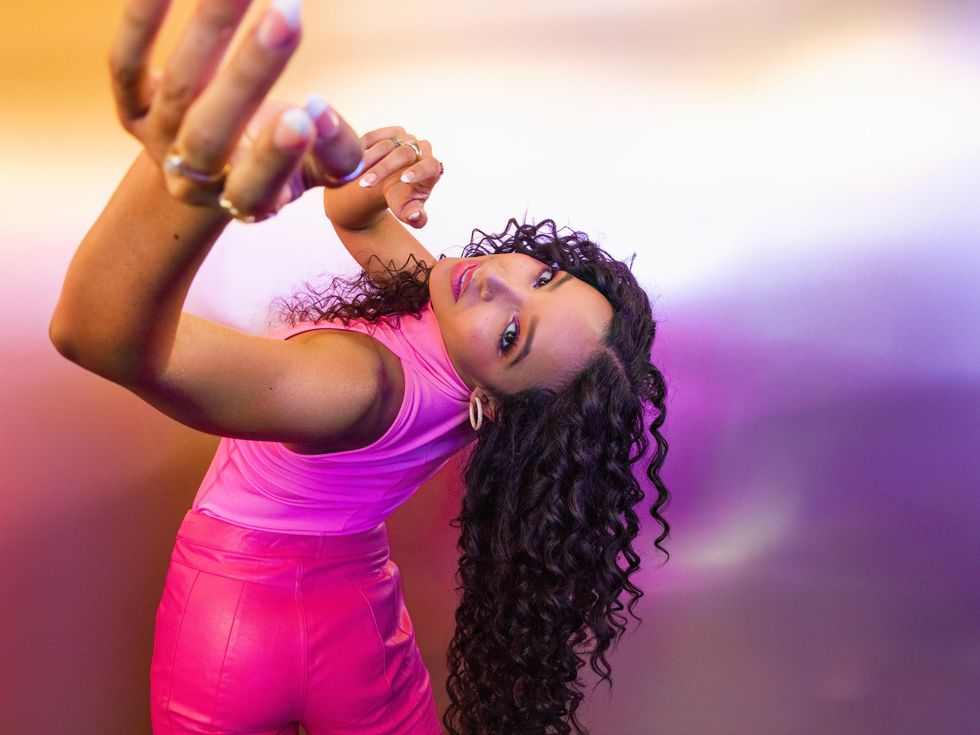 Photo courtesy of Eva New York
Looking back, do you have any beauty regrets?
"Just different things I've done with my hair that have had lasting effects on their health, like lightening it too much, chemically too much or not feeding it properly. And cut my bangs. Things like where are they like Why did I do it?"
How did your collaboration with Eva NYC start?
"This partnership was really fun for me because I was looking for people to work with who could see that I have a creative vision. Eva NYC is a sustainable hair brand. It's something I'm really passionate about, making products that are really conscientious, so I thought they were the perfect brand to partner with. Being able to have a collaborative approach with them, design my bottle and just get to know them and build with them was really fun. "
Tinashe's favorite beauty products
Mane Magic Hair Primer 10 in 1
"The Mane Magic Primer is really great because you can use it in so many different ways. When your hair is wet, you can use it to add a layer of protection if you plan to start styling hot or just need protection during the day. It also helps to control frizz when you are drying it and go for a more natural dry style. Plus, if it's dry, this can also add shine and make it look hydrated when you have second day hair and want it to look nourished. This product was really great. I would say that it is certainly one of my cornerstones ".
Eva New York
Hydra Vizor Invisible broad spectrum moisturizer SPF 30 Sunscreen with niacinamide
"Sunscreen is really important. People always tell you this, but I don't think it goes wild until you think to yourself, "Oh, I should wear sunscreen." I am using this Fenty Skin sunscreen. Rihanna gave it to me, so it was really cool. She has an undertone that looks sparkly and bright. When you wear it you look healthier.
Faux Leather
Healing ointment
"I think Aquaphor is really underrated for keeping your lips hydrated – I use it a lot on my lips. And whenever I have a patch of skin that is really, really, very dry, I love being able to apply it in layers with Aquaphor, an oil and a moisturizer. It takes zero to 100 when it comes to locking in moisture. "
Etching
Coconut oil
"I love the oils on my skin and hair. I live in California so I have dry butt skin, but I never try to be ash so I'm a huge fan of oils.
Garden of life
Body oil
"I love Augustinus Bader – their face and body products are really nice. And this oil is really very beautiful. Plus, it's not too heavy. "
Agostino Bader
Voluminous volumizing carbon black mascara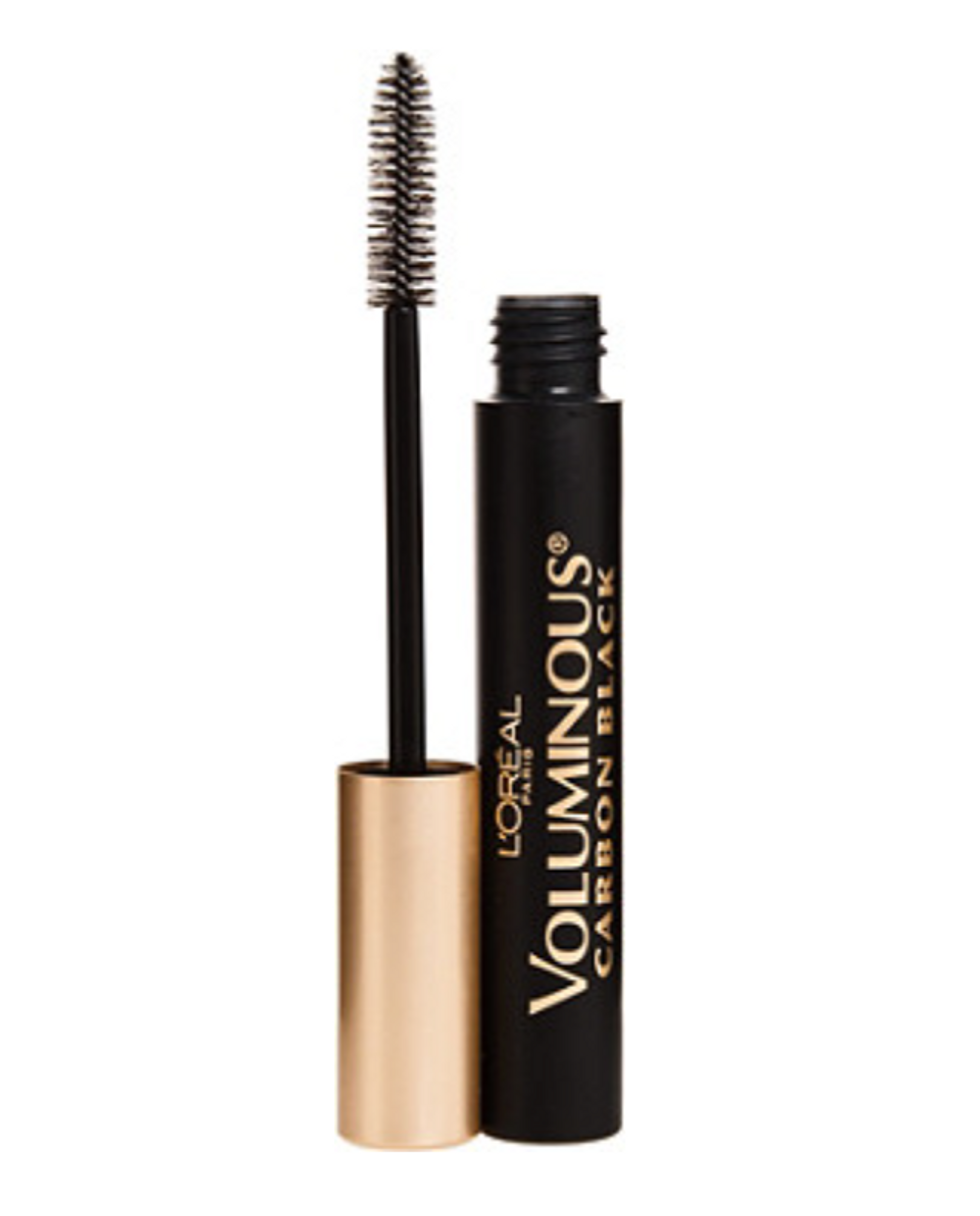 "Honestly, my favorite mascara is something you can find at any drugstore. This only works. Sometimes you don't need to have expensive designer products to be able to achieve gorgeous beauty looks – you just have to try things that work. I really like this mascara because you can add a lot of layers and you don't have to worry [your lashes] getting clumsy ".
L'Oreal
Hair mask therapy session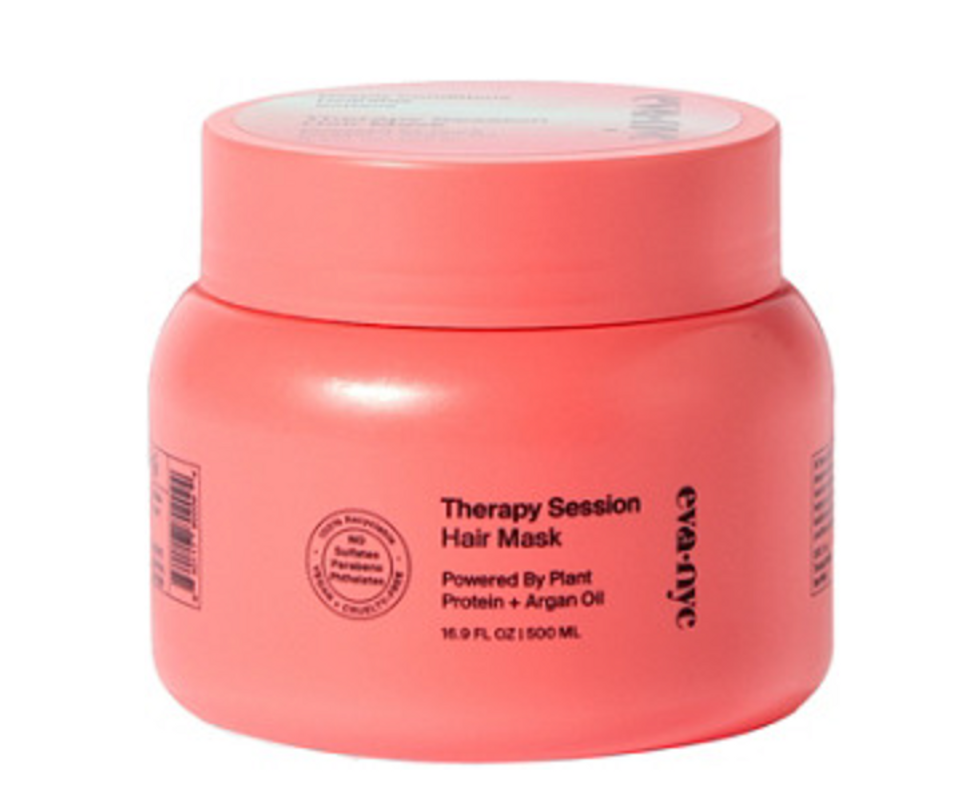 "This deeply affects my hair when I'm constantly dealing with dryness. Even though it's a hair mask, I use it as a conditioner. Sometimes I leave it on for a while, like all day, and wash it off the next day. It's really nourishing ".
Eva New York
Nudist lips duo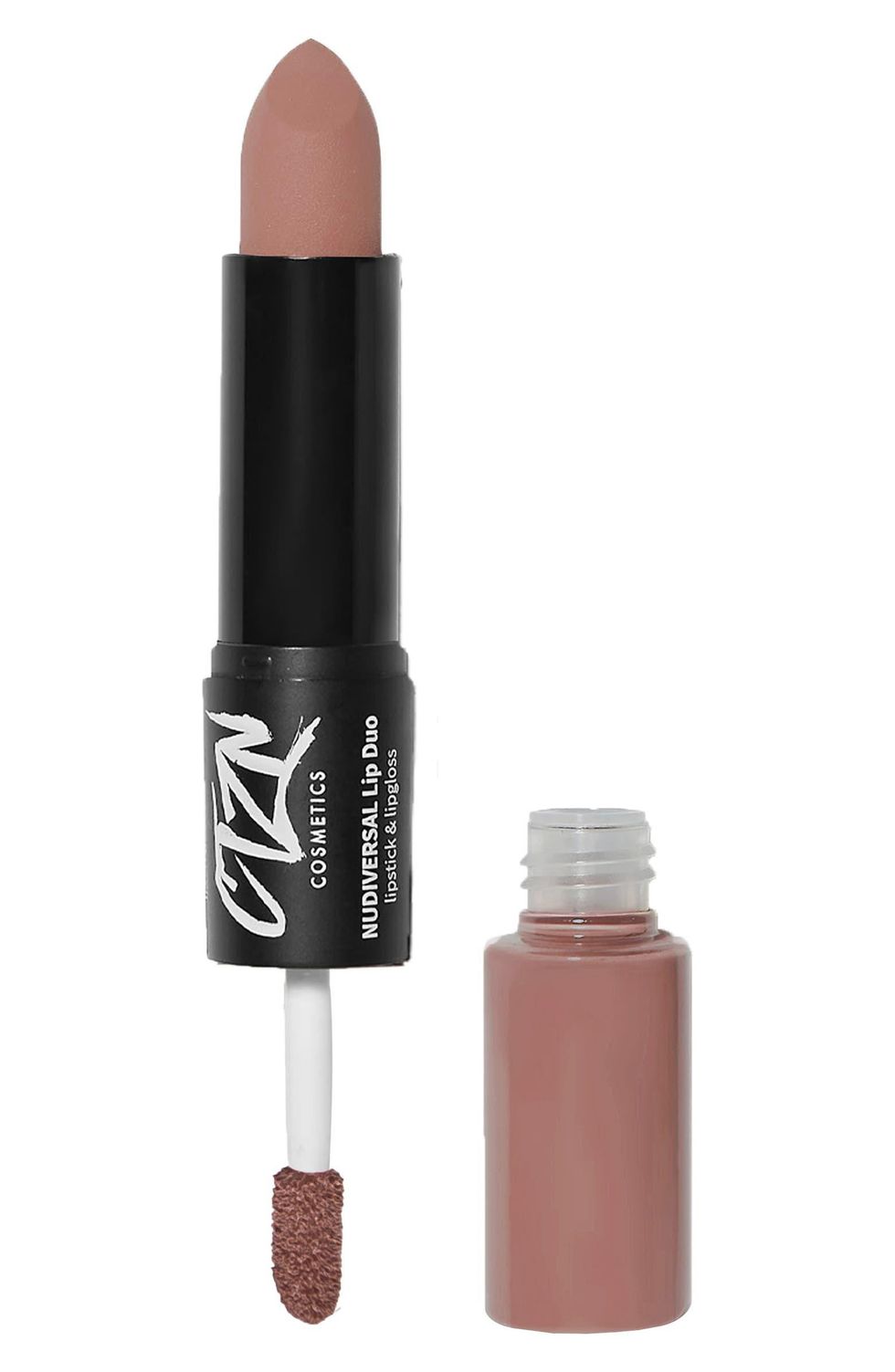 "I really like CTZN Cosmetics lipsticks. I have a lip duo that is a lipstick with gloss. I loved both of them and it's nice to have them both on the same pen. "
CTZN cosmetics
window.REBELMOUSE_ACTIVE_TASKS_QUEUE.push(function(){
var makeMonitor = (getStatus, cb, delay) => { delay = delay || 100; var monitor = () => { var time = +new Date(); var status = getStatus(); if (status) { return cb(status); } else { if (!stopMonitor && +new Date() - time < 30 * 60 * 1000) { monitorId = setTimeout(monitor, delay); } else { cb(false); } } }, cancel = () => { stopMonitor = true; clearInterval(monitorId); }; let monitorId, stopMonitor = false; return { start: monitor, cancel: cancel, }; };
var leftArrowCarrousel = makeMonitor( function () { return document.querySelector( ".shop-sidebar.shop-posts .posts-wrapper .slick-next" ); }, function (res) { res.addEventListener("click", () => { gtag("event", "Left Arrow Click", { event_category: "Shopping Module", event_label: "Previous product at carrousel", }); }); } );
leftArrowCarrousel.start();
var rightArrowCarrousel = makeMonitor( function () { return document.querySelector( ".shop-sidebar.shop-posts .posts-wrapper .slick-prev" ); }, function (res) { res.addEventListener("click", () => { gtag("event", "Right Arrow Click", { event_category: "Shopping Module", event_label: "Next product at carrousel", }); }); } );
rightArrowCarrousel.start();
var buyButton = makeMonitor( function () { return document.querySelectorAll( ".shop-sidebar.shop-posts .posts-wrapper .widget__product-buy-link-btn" ); }, function (res) { for (let button of res) { button.addEventListener("click", () => { gtag("event", "Buy button click", { event_category: "Shopping Module", event_label: `${button["href"]}`, }); }); } } );
buyButton.start();
var imageShopp = makeMonitor( function () { return document.querySelectorAll( ".shop-sidebar.shop-posts .posts-wrapper .widget__head a" ); }, function (res) { for (let image of res) { image.addEventListener("click", () => { gtag("event", "Image click", { event_category: "Shopping Module", event_label: `${image["href"]}`, }); }); } } );
imageShopp.start();
var productTitle = makeMonitor( function () { return document.querySelectorAll( ".shop-sidebar.shop-posts .posts-wrapper .widget__headline .widget__headline-text" ); }, function (res) { for (let product of res) { product.addEventListener("click", () => { gtag("event", "Product title click", { event_category: "Shopping Module", event_label: `${product["href"]}`, }); }); } } );
productTitle.start();
});
window.REBELMOUSE_ACTIVE_TASKS_QUEUE.push(function(){
window.REBELMOUSE_STDLIB.loadExternalScript("https://s.skimresources.com/js/150311X1615657.skimlinks.js", function() {
});
});
window.REBELMOUSE_ACTIVE_TASKS_QUEUE.push(function(){
!function(f,b,e,v,n,t,s){if(f.fbq)return;n=f.fbq=function(){n.callMethod?n.callMethod.apply(n,arguments):n.queue.push(arguments)};if(!f._fbq)f._fbq=n;n.push=n;n.loaded=!0;n.version='2.0';n.queue=[];t=b.createElement(e);t.async=!0;t.src=v;s=b.getElementsByTagName(e)[0];s.parentNode.insertBefore(t,s)}(window, document,'script','https://connect.facebook.net/en_US/fbevents.js');fbq('init', '1248680838922690');fbq('track', 'PageView');
});
window.REBELMOUSE_ACTIVE_TASKS_QUEUE.push(function(){
window.REBELMOUSE_STDLIB.onElementInViewport({ threshold: 400, selector: "video", oneTime: true, onIntersect: function(entry){ var element = entry.target; element.setAttribute("allow","autoplay"); element.loop = true; element.muted = true; element.autoplay = true; element.setAttribute("playsinline","true"); //element.controls = false; element.play(); } });
});