Kate Middleton is known for wearing her wardrobe staples sometime ten years later, which appeals not only to the Duchess's thrifty nature, but also to her sustainability values.
The wardrobe Kate brought with her on her recent controversial Caribbean tour included many items widely celebrated by the fashion press, from a beautiful new yellow ROKSANDA day dress to a sleek ice blue evening gown by Phillipa Lepley. However, it was the pieces that had a few extra miles on the clock that generated the most interest.
On the Caribbean tour, Kate wore not only clothes already in her wardrobe, but also those bought by others. The Duchess debuted three key vintage clothing items in two days, provoking the British Rowing to ask the question: "Is this a new chapter for Kate's wardrobe?"
Although the Caribbean tour featured more vintage pieces than any other worn in quick succession, Kate has cleared her eye for vintage in previous years.
From Oscar de la Renta and Yves Saint Laurent to the chic bags of the 30s and beyond, News week examines the highlights of Kate Middleton's vintage fashion:
Josef handbag from the 1930s
The first vintage fashion item Kate has worn publicly is a small beaded bag from the Bags by Josef label.
The brand was a major producer of fashionable bags for women from the 1930s through the 1950s.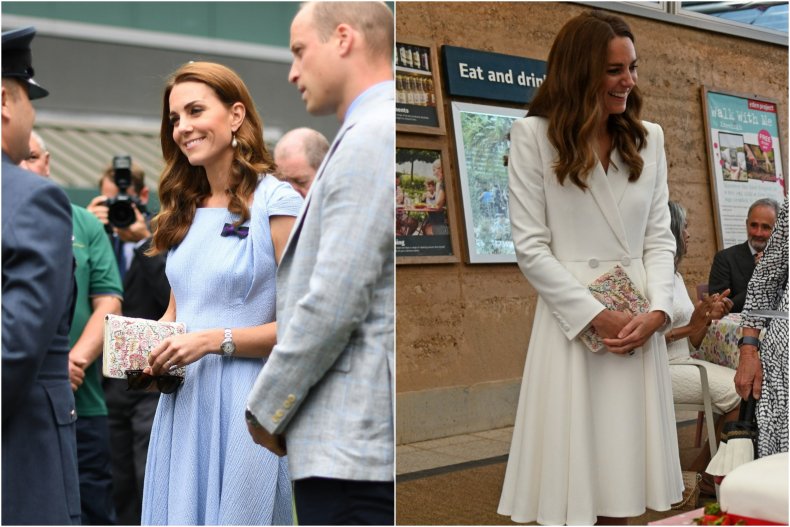 Kate debuted this bag for the first time at Wimbledon, accompanied by Prince William in 2019. The Duchess paired the bag with a light blue crepe day dress from designer Emilia Wickstead.
Kate has since publicly worn the bag on another occasion, at the G7 Leaders Reception in 2021, hosted at the Eden Project in Cornwall, England. On this occasion she paired the bag with a chic Alexander McQueen coat dress and Aquazzura pumps.
Oscar de la Renta 70s polka dot dress
On an official 2020 visit to Dublin with Prince William, Kate Middleton debuted perhaps one of her most spectacular vintage items to date in the form of a deep pink and black polka dot mid-length dress with a ruffle neckline.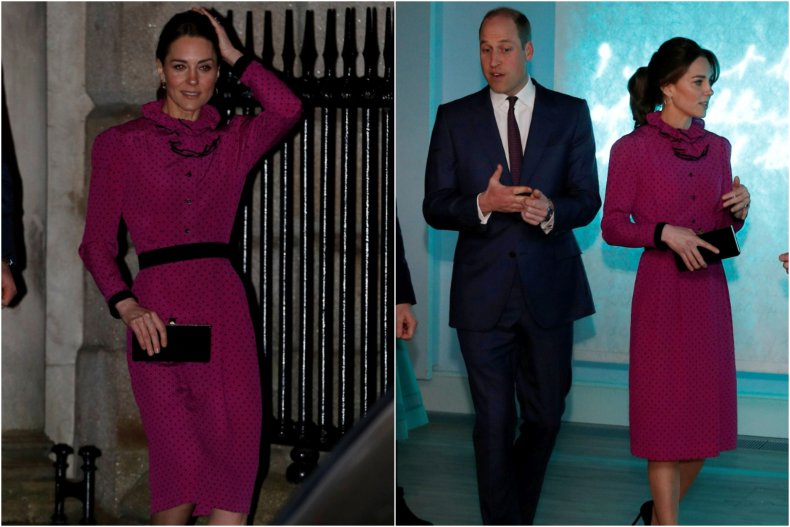 This dress was identified as coming from de la Renta's fall / winter 1979 collection and won the hearts of social media users for its resemblance to a dress worn by Princess Diana in the Vatican in 1985.
Kate paired the dress with black accessories from her most trusted shoe brand, Jimmy Choo.
Yves Saint Laurent 80s blazer
Leaving the first stop of the 2022 Caribbean tour, Kate surprised royal observers by wearing a vibrant orange jacket that has been revealed in her closet for over 20 years.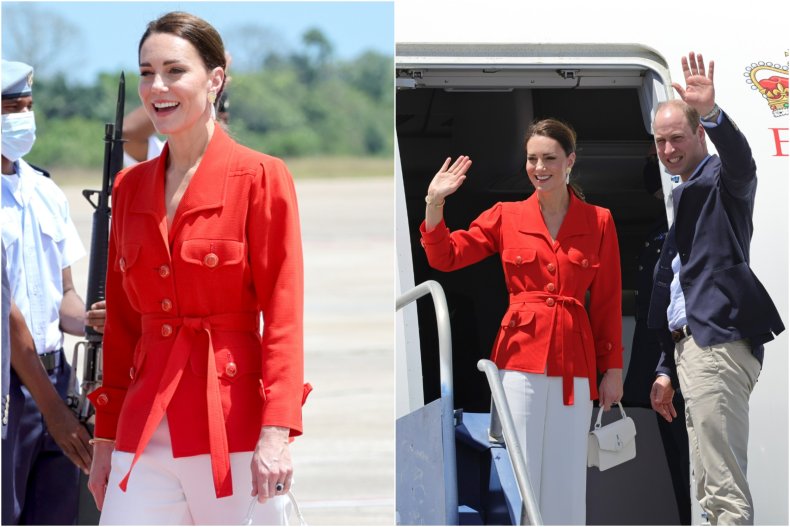 Members of the royal tour press were told that the jacket, which dates back to the 1980s, was by designer Yves Saint Laurent and had been bought by Kate in Scotland when she was a student.
Leaving Belize for Jamaica, the Duchess paired the jacket with white flared pants, a mulberry handbag, and Aquazzura shoes.
1950s printed day dress
Jamaica once again saw the Duchess wearing vintage clothing, this time most recently purchased by retailer Willow Hilson Vintage.
For a visit to Trench Town in Jamaica, marred by a series of PR mistakes, Kate wore a turquoise and orange printed dress, dated by Willow Hilson Vintage around 1950.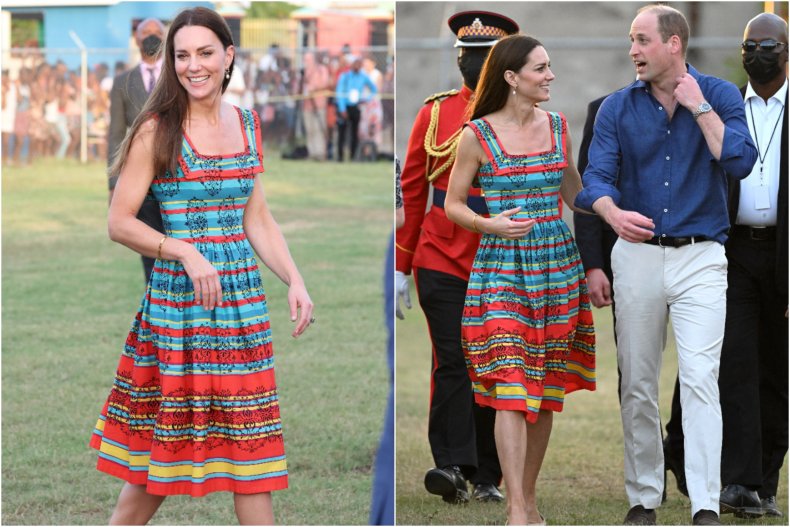 The Duchess had the slightly modified design, with the original spaghetti straps transformed into more modest straps by a matching small shawl that accompanied the gown.
Wayne Taylor handbag from the 1960s
On the second day of her visit to Jamaica, Kate wore a white Alexander McQueen dress with a pop of color in the shape of a Ridley London orange blouse.
The Duchess paired this dress with another vintage item: an orange beaded handbag she also bought through Willow Hilson Vintage.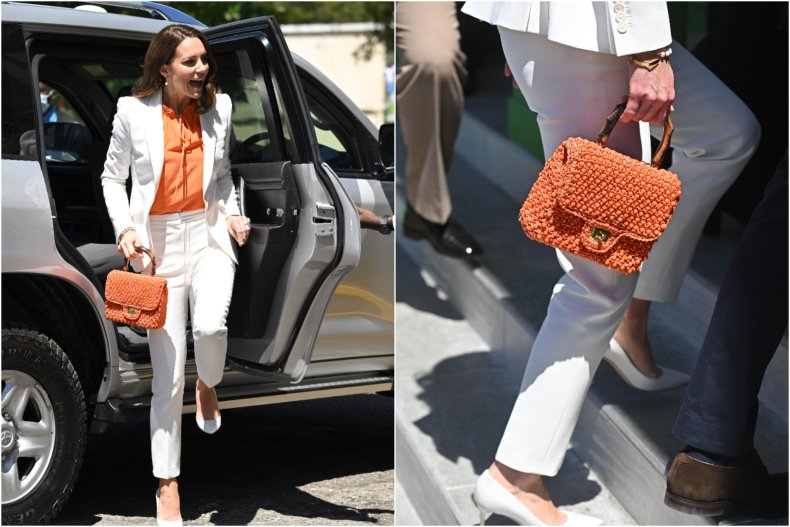 Kate's bag dates back to the 1960s and is made of woven raffia with a wooden handle and gold hardware. The bag was originally designed by the now defunct Wayne Taylor label and made in Japan.
During their tour in the Caribbean, Kate and William visited people and places associated with their Royal Foundation's Earthshot Prize. As this award is about preserving the planet, Kate's efforts to incorporate vintage pieces into her wardrobe have been seen as an extension of this.
Talking with Rowing, Willow Hilson of Willow Hilson Vintage said Kate was setting a positive example to encourage people to re-wear vintage and old pieces. "Having someone like Kate wearing [our pieces] it's just amazing, "he said.
"I think she is really trying to be an advocate of reuse and being [more] sustainable. There are still so many people he would never wear second hand: it can encourage people to be a little more knowledgeable with their fashion and look for older pieces. "