SSome people like to plan well in advance of a special occasion, compiling shopping and to-do lists to ensure the big day and the days leading up to it go as smoothly as possible. The rest of us "make" life a little more impulsive, coming up with a delicious idea just the day before and then coming up with a one-stop, one-pot plan to actually implement it. For anyone craving a feast this weekend who doesn't yet have a plan of action, fear not: I've got you covered.
Spicy yogurt-crusted lamb with black-eyed beans
The Scotch Bonnets add a tropical fruitiness to this marinade, but they can also be devastatingly spicy, so omit them if you prefer; the marinade stays flavorful. If you can't find black-eyed beans, swap them out for canned black beans. Serve with flatbread or rotis, if you like.
preparation 35 mins
marinade 3 hrs+
Cook 4 hoursr 30 min
serves 6-8as main dish
For the marinade
1½ tbsp allspice berriesfinely crushed in a mortar
1½ tsp cuminfinely crushed in a mortar
1½ tsp coriander seedsfinely crushed in a mortar
1½ tsp paprika
1½ tsp black peppercornsfinely crushed in a mortar
½ tsp ground turmeric
¼ tsp ground cloves
1 tsp soft light brown sugar
50g gingerpeeled and roughly chopped
1 clove of garlicCloves separated, peeled and roughly chopped
1 medium onionpeeled and roughly chopped (180g)
80 g Greek yoghurt
salt and black pepper
For the lamb
2kg shoulder of lamb with bonefreed from excess fat
2 tbsp sunflower oil
600 g plum tomatoeshalved
2 medium onionspeeled and quartered (300g)
5 cloves of garlicpeeled off
2 tbsp tomato paste
40 ml apple cider vinegar
1-2 Scotch Bonnet chilliespierced all over with a knife (optional)
2 cinnamon sticks
500 ml chicken broth
600ml full-fat coconut milk
3 x 400g cans of black-eyed peas, drained and washed (720g net)
For the salsa
300 g plum tomatoes (about 2 or 3), halved, seeded and finely chopped
1 medium red onionpeeled and finely chopped (150g)
60 grams of corianderLeaves and soft stems, roughly chopped
1½ tbsp lime juice
Blend all of the marinade ingredients except for the yoghurt in a food processor with a tablespoon and a half of salt to form a paste. Add the yogurt and beat again for 20 seconds until smooth. Place the lamb in a large bowl, pour in the marinade and toss to coat. Cover and refrigerate for at least three hours, and preferably overnight (if doing the latter, remove the lamb from the refrigerator about an hour before cooking to bring it back to room temperature.
Preheat oven to 190°C (170°C fan oven)/375°F/Gas 5. In a large 11-inch wide cast-iron saucepan, fitted with a lid, place oil over medium-high heat. Add half the tomatoes, onion and garlic and char and stir 3 to 5 minutes until nicely colored and beginning to soften. Transfer to a bowl and repeat with the other half of the tomatoes, onion, and garlic.
Return the first batch of tomatoes, onion, and garlic to the pan, then stir in the tomato paste, vinegar, Scotch Bonnets (if using), cinnamon, stock, and 1/4 teaspoon salt. Add the lamb and all of its marinade, bring to a boil, cover the pan and place in the oven to roast for 2 and a half hours.
Remove the lid and carefully lift the lamb onto a platter. Stir coconut milk and beans into saucepan, pour lamb on top and return to oven, uncovered, for a further 45-60 minutes or until nicely browned and crusted. The lamb should now be very tender. Remove from the oven and let rest for 15 minutes.
In the meantime prepare the salsa. In a medium bowl, combine the tomato, onion, cilantro, lime juice, and 1/8 teaspoon salt, then set aside.
To serve, carefully lift the lamb onto a board, then use a ladle to skim excess fat from the liquid in the pan and discard. Pour the bean mixture through a sieve Set over a bowl to catch the sauce, then transfer the bean mixture to a platter with a lip. Pour half the sauce on top, then top with the lamb and a few spoonfuls of salsa and serve with the remaining salsa and extra sauce on the side.
Caramelized fennel and grape tart with saffron and olives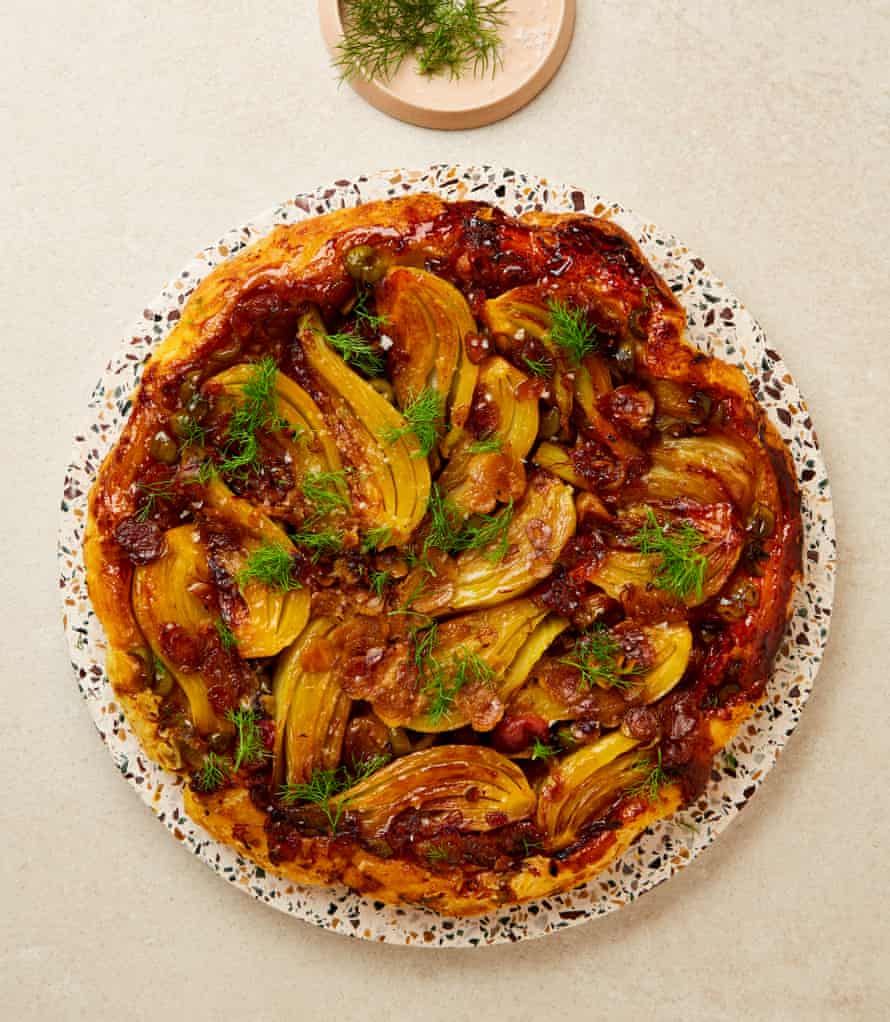 This cake walks the line between sweet and savory. I like to serve it up as an appetizer or for lunch, with a tangy green salad and some good canned sardines.
preparation 15 minutes
Cook 40 mins
serves 4 as a starter
1 tbsp regular flour
1 x 320g sheet of all-butter puff pastry
2 large bulbs of fennel (550g)
2 tbsp olive oil
1 tbsp Demerara sugar
80 g refrigerator-cold unsalted buttercut into 1 cm cubes
¼ tsp saffronSoaked in 1 tablespoon of boiling water for at least five minutes
salt and black pepperplus ⅛ tsp sea salt flakes
70 g seedless red or green grapes
45 g pitted green or black Kalamata olivesroughly chopped
Preheat the oven to 220°C (200°C fan oven)/425°F/gas mark 7 and line a large oven tray with baking paper. Dust a clean work surface with the flour. Gently roll out the dough until you can easily cut out a 28cm circle, then trim and save the excess for another use. Transfer the circle of dough to the lined tray and refrigerate until needed.
Cut 1cm off the top of the fennel stalks and save any fronds to garnish the cake later. Using a mandolin or sharp knife, slice the remaining stems thinly until you can reach the bulb, then set the trimmed stems aside. Cut both onions in half lengthwise, then slice each half into six (or four if the fennel is on the narrow side) wedges about 3cm wide.
In a medium 10-inch (26 cm) ovenproof skillet, set on medium-high heat, add 1 tablespoon oil, then place the fennel slices, cut side down, fry for two minutes, then turn on the other cut side and repeat the process until golden brown. Sprinkle ¼ teaspoon of salt on top, then transfer to a plate.
Rinse and wipe dry the pan, then return to medium-low heat. Add the sugar, butter, saffron and its soaking water, half a teaspoon of salt and a good pinch of pepper and stir. Heat gently for three minutes, stirring occasionally, until just beginning to bubble and caramelize, then add the grapes and fennel tips. Remove the pan from the heat, place the fennel slices cut-side up on top and sprinkle over the olives.
Place the cold dough on the pan and gently tuck in the edges so that the filling is completely covered. Using a small, sharp knife, form a small cross on top to allow steam to escape, then bake for 25 minutes, until crisp and deeply golden. Remove and let rest and cool for five minutes.
Place a 30 cm wide plate on the pan, making sure there are no gaps. Then, with one hand on the plate and another on the cool pan handle (use a tea towel if still hot), turn the pan over to invert the pie onto the plate. Scatter the reserved fennel leaves on top together with the sea salt flakes and serve hot.
Roasted cabbage with lemon peas and feta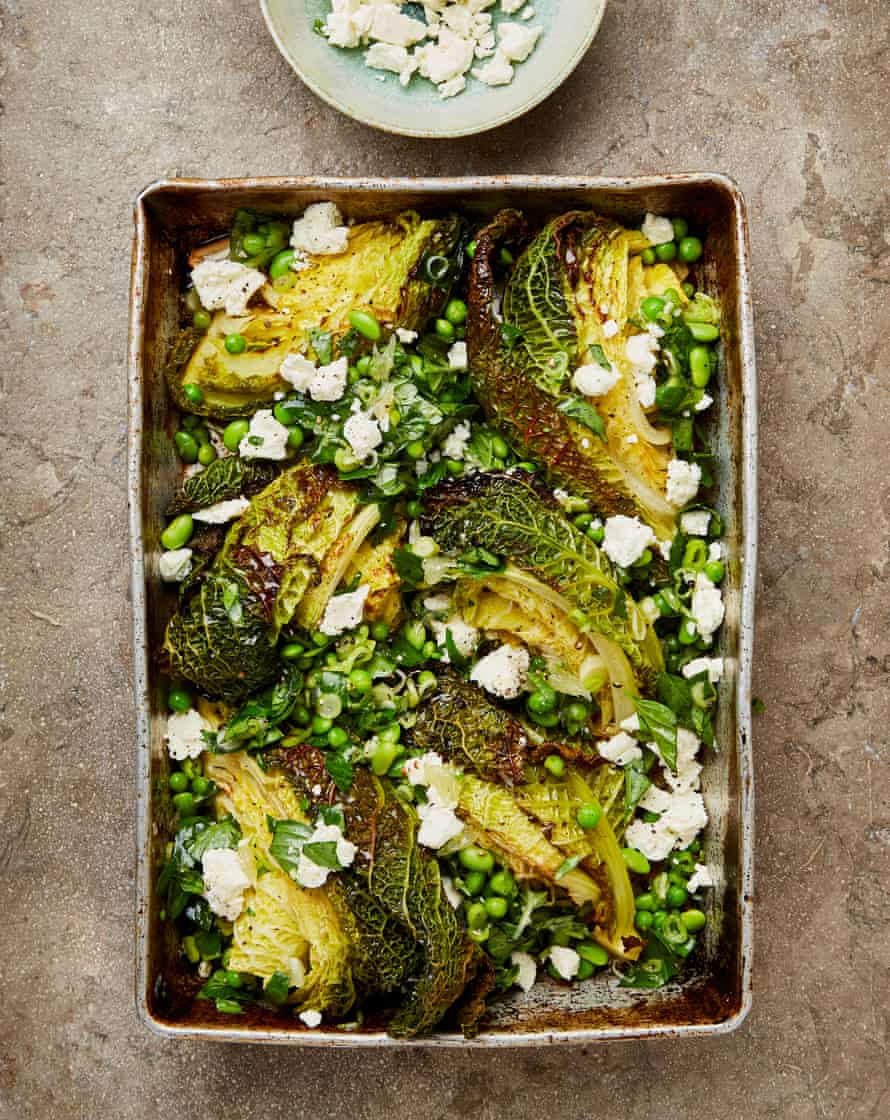 This is a great side dish for any roast, but it's also delicious on its own. Use fresh peas if you can get them; For a vegan alternative, substitute olives or capers for the feta — their salty flavor works really well here.
preparation 15 minutes
Cook 30 minutes
serves 4-6 as a side
1 medium savoy cabbage (500 g), cut into 6 wedges, leave the stalk in
4 cloves of garlicpeel and halve lengthwise
150 ml chicken or vegetable broth
75 ml olive oil
salt and black pepper
1 lemon
80 g frozen peasthawed
80 g frozen edamame or broad beansthawed
30 g basil leavesroughly chopped
4 spring onionstrimmed and cut into thin rings (50g)
100g fetacoarsely disintegrated
Preheat the oven to 220°C (200°C convection)/425°F/Gas 7. Place the cabbage slices, cut side down, in a 20 x 30 cm casserole dish and place the halved garlic cloves between them. Pour over the broth and three tablespoons of oil, sprinkle with three-quarters of a teaspoon of salt and a good pinch of pepper, then sauté for 15 minutes, until nicely browned in spots. Carefully flip the wedges to the other cut side and bake an additional 15 minutes, until golden on the other side: you want them to be nice and soft with charred bits on top. Take out and set aside.
Meanwhile, prepare the pea salsa. Remove the top and tail of the lemon and use a small, sharp knife to remove the skin and pulp. Cut between the membranes to detach each segment, then cut each segment into four pieces. Place these in a medium-sized bowl, then squeeze the juice from the membranes and discard.
To keep the peas from discoloring, just before serving, stir in the remaining 2 tablespoons of oil, the peas, edamame, basil, scallions, ¼ teaspoon salt, and a good pinch of pepper. Spread the pea salsa over the cabbage wedges, top with half of the crumbled feta and serve in a bowl with the remaining feta.