mEating requires planning, thinking, and multitasking. It also requires the crafting of many different elements that all come together in the end. It requires thinking about what people need and want and trying to make everyone happy. It's about food, yes, but it's also about food and love. If this sounds like someone you know – hello mom! – then plan a meal, make that meal, and tell her you love it.
Poached eggs with avocado yoghurt and pilpelchuma (pictured above)
This dish is inspired by poached egg, or Turkish Eggs, which pairs poached eggs with a sour, lemony yogurt. Serve with good bread or flatbread. Pilpelchuma is a chili paste of Libyan Jewish origin, and these amounts will add up to more than you need here. Store excess in a sealed container in the fridge for up to a week — it goes great with seafood or roasted vegetables.
preparation 5 minutes
a cook 55 mins
serves 2
For the Pilpelchuma
3 small garlic bulbs
105 ml olive oil
2 dried chipotle chilliesstems and seeds removed
1 tsp cumin
½ tsp cumin
2 teaspoons sesame
½ tsp Aleppo chili
1 tsp paprika
Sea salt and black pepper flakes
For the avocado yoghurt
2 ripe avocados
75 g thick Greek yoghurt (5% fat or more) or store-bought labneh
1 limefinely grated to yield ½ tsp zest, then juiced to yield 1 tbsp
2 tbsp coriander leavesfinely chopped
1½ tbsp Thai basil leavesfinely chopped
For the eggs
4 large eggs
1 tsp distilled white vinegar
2 slices of sourdough breadroasted, for serving (optional)
Preheat the oven to 200°C (180°C fan)/390°F/gas mark 6 and then begin the pilpelchuma. Cut off the tops of the garlic bulbs to reveal the cloves inside. Place each head on a small piece of aluminum foil and season each with a pinch of salt and a tablespoon of oil. Wrap each one tightly, then roast for 35 minutes until nicely soft and golden brown. Remove, let cool completely, then press heads together to loosen roasted cloves from papery skin (discard skin).
Meanwhile, place the chiles in a heatproof bowl, pour over enough boiling water to submerge them, then weigh the chiles down with a small saucer and allow to rehydrate for 20 minutes.
For the yoghurt, cut the avocados in half, then remove the stone and skin and discard. Place the pulp in a food processor with the yogurt, 1/4 teaspoon salt, lime zest and juice and puree until smooth. Add the herbs, one tablespoon at a time, and pulse for 30 seconds until the mixture is mottled green, then set aside. (If you like, prepare this up to a day ahead; cover and refrigerate, but bring back to room temperature before serving.)
In a small skillet over medium-high heat, toast the cumin, caraway, and sesame seeds for 3 minutes, until fragrant. Place in a mortar and crush coarsely.
Drain and coarsely chop the soaked chilies, then place in the mortar and pestle with the roasted garlic flesh, Aleppo chilli, paprika, and 1/4 teaspoon salt flakes. Work the mixture into a loose paste, gradually add the remaining 60ml oil – the end result will be divided and textured – then scrape into a bowl and set aside at room temperature.
Fill a large saucepan halfway with water, add half a tablespoon of salt and bring to a boil. Reduce the heat to medium-low, add the vinegar and swirl the water vigorously to create a mini hot tub. Crack the eggs into the water, one at a time, gently tossing the water again between each addition, and cook for three minutes for poached eggs with runny yolks (cook longer if you prefer harder yolks). Scoop out the eggs one at a time with a slotted spoon and drain on a piece of absorbent kitchen paper.
Divide the avocado yogurt between two medium-lipped plates, then make a well in the center of each serving. Place two eggs on each and sprinkle with a good pinch of pepper and salt flakes. Scoop the pilpelchuma generously over the eggs (save the excess for another use), sprinkle over the remaining tablespoon of cilantro and half a tablespoon of basil, and serve with the toast, if using, as a garnish.
Date and oat soda bread with salted date butter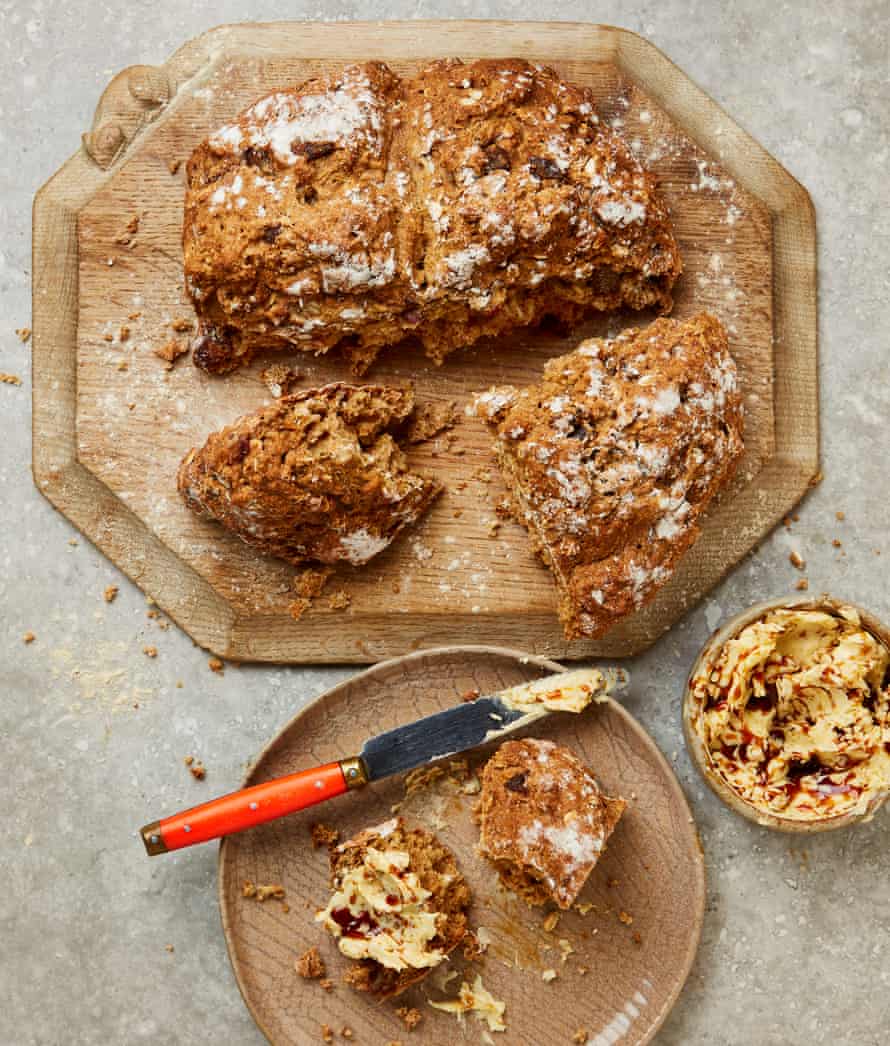 There are many great things to say about soda bread, one of which is that it takes less than an hour to make, making it ready for brunch on Mother's Day morning.
preparation 5 minutes
a cook 40 mins
serves 4
140 g strong bread flourplus extra for dusting
140 g wholemeal flour
1½ tsp salt
1 tsp baking soda
½ tsp baking powder
60 g jumbo rolled oats
50 g Medjool datescored and cut into ½ cm cubes
150ml buttermilk
2 tbsp date syrup
120 grams of salted buttercut into 1 cm cubes, then soaked at room temperature
Preheat the oven to 220°C (200°C fan oven)/425°F/gas mark 7 and generously dust a 30cm x 20cm baking tray with bread flour.
Place the two flours, salt, bicarb, baking powder, and rolled oats in a large bowl and mix together. In a small bowl, combine the dates, 125ml buttermilk, 150ml cold tap water and 1 tablespoon of date syrup. Make a well in the dry mixture, then pour in the wet ingredients and knead gently with your hands until fully incorporated and the dough is just coming together – don't overwork.
Form the dough into a round loaf about 15 cm in diameter and carefully lift it onto the floured baking sheet. Using a sharp knife, cut a 2″ deep cross into the top of the pastry (don't worry if it's not perfect), then bake for 35 minutes or until nicely browned and cooked through. Lift the bread onto a wire rack and let cool for at least 15 minutes.
Meanwhile, prepare the date butter. In a food processor, pulse the butter for 60 seconds until pale and fluffy, add the remaining 25ml buttermilk and pulse a further 10 seconds just to incorporate (don't pulse much longer or it will split).
Transfer to a bowl, add the remaining tablespoon of date syrup and gently toss through the butter mixture; You don't want to fully integrate it.
Serve the bread warm or toasted and spread with some date butter.
Splashes of strawberry, hibiscus and black pepper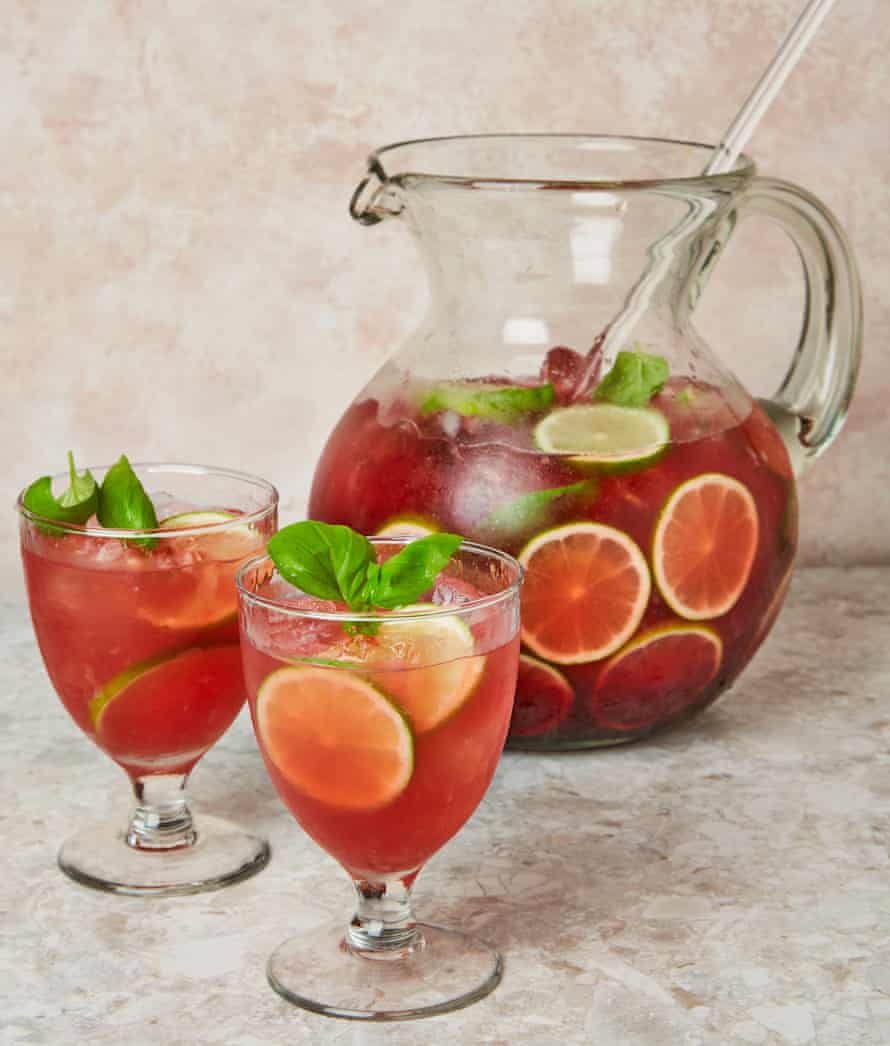 Start Mother's Day brunch with this refreshing and easy gin spritz. To make it non-alcoholic, swap out the gin for more sparkling water. If you like, prepare the syrup ahead and refrigerate – it will keep for up to two weeks.
preparation 10 mins
a cook 30 minutes
Makes 1.2 liters for 4 servings
For the strawberry syrup
400g frozen strawberries
200 g Demerara sugar
½ vanilla beansplit and seeded or 1 tsp vanilla bean paste
10 g dried hibiscus flowers
1 tsp black peppercornsroughly cracked in a mortar
⅛ tsp sea salt flakes
For the splash
200ml London Dry Gin
200 ml lime juice (from 9-10 limes)
400 ml strawberry syrup (see above and method)
400 ml sparkling water
1-2 limescut into 5 mm thick slices, cored
3-4 sprigs of basil
First make the syrup. Place strawberries, sugar, vanilla bean and seeds, hibiscus, ground pepper and salt in a medium saucepan and add 400ml cold water. Bring to a boil, then reduce heat to medium-high and cook 20 minutes, until fruit has broken down and liquid is the consistency of a thin syrup. It will thicken as it cools.
Pass the strawberry mixture through a fine sieve over a medium bowl and use the back of a spoon to press down on the solids, extracting as much liquid as possible. The soaked fruits pass through the sieve as puree; discard the remaining solids that remain in the strainer. You should end up with about 400ml of thick syrup. Pour this into a sterilized jar, let cool, seal and refrigerate until ready to use.
For the spritz, fill a two-liter pitcher 1/4 full with ice. Add the gin, lime juice, strawberry syrup, sparkling water, lime wedges and basil and stir well, crushing the basil leaves to release their flavor. Pour into tall glasses and serve ice cold.