Jada Pinkett Smith is reflecting on the past hair fights she faced in her career. To celebrate the House of Representatives passing the Crown Act, the actress took to Instagram to share some information about her journey with her hair as part of her "Story Time with Jada" series.
---
For those of you who don't know, the Crown Act is a bill that bans discrimination based on hair texture and hairstyle commonly seen in the black community.
Captioned "Corona Act. Be proud of your crown," Jada began the video by saying:
"I definitely had some regrets about the hair, especially on the covers. Where was he alone, 'what the hell?' "She then explained what it was like to be in Hollywood in the 90s, where straight hair was" in. "
"Being a black woman and dealing with hair in Hollywood, especially in the era I was born in, having the most European hair possible has always been the thing and it has been a real challenge," she said. "Because I liked my curly, wild hair, but nobody wanted it."
Due to the refusal of entry, the Girls trip the star found herself a victim of society's standards and wore hairstyles she wasn't comfortable with.
"So I've always had to comb my hair in ways that didn't feel natural to me due to trying to play. So if I'm doing a cover, everyone says 'no, we love your straight flowing hair' and it's like, okay, cool, but that's not really what my hair likes to do. "
He continued: "So I had to learn to find the courage to just say 'nah, I'm not doing this." That's why I feel freedom today. I don't give a damn how people feel about this bald head of mine because she guess what, I love it.
BoundJada recently shaved her head due to alopecia, however, we have seen the beloved actress sporting a variety of hairstyles over the years. Let's take a look at some of her most important moments with her hair.
Pixie cut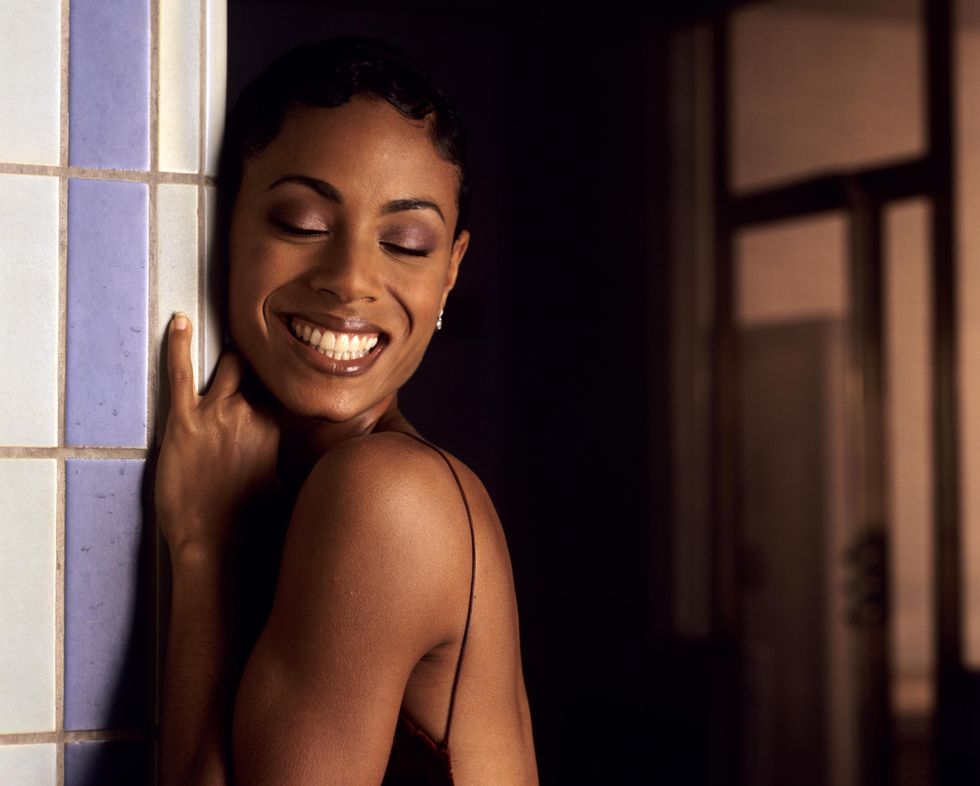 Jada Pinkett Smith in 1997.
Joe McNally / Getty Images
The pixie cut became the hairstyle that the mom of three was known for. Whether her hair was dyed platinum blonde or black or wavy or curly, her short cut had been her signature since the 1990s.
Mad Professor Bob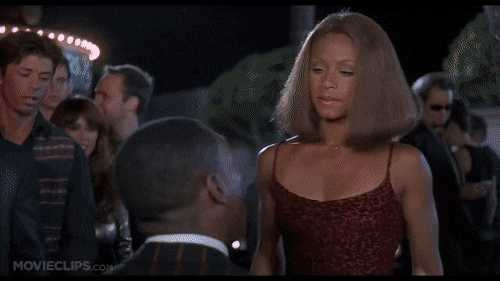 thumbs.gfycat.com
Last year, Jada talked about the bad experience she had with a hairdresser on the set of The Nutty Professor. During Speech at the red tableshe explained that the reason her wig looked so bad was that the hairstylist wouldn't straighten the roots.
"He thought the roots shouldn't be smooth, but the hair should be straight," she said. "It was like, 'Well, usually for black women, you don't have straightened roots.' And I said, 'Oh no, we do it. Either we straighten it with a hot comb or we allow it.' But she didn't believe me. So, she made it with the roots that weren't straight, but her hair was. "
Put it out of the braids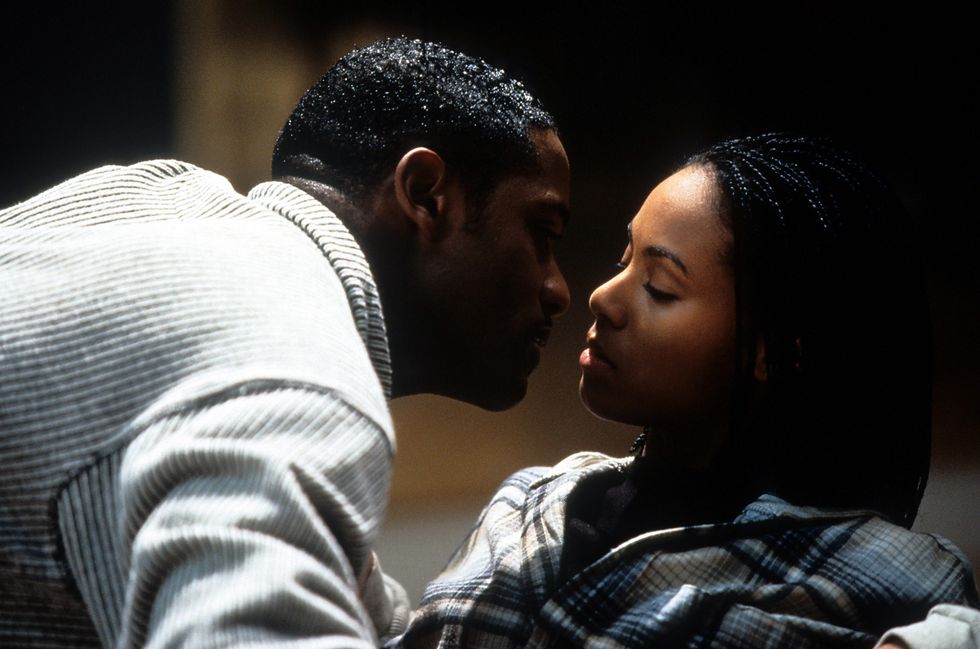 Jada Pinkett Smith and Blair Underwood in the 1996 film "Set It Off".
New Line Cinema / Getty Images
Jada's box braid comes in Set it off it's one of her most iconic looks and a classic 90s hairstyle. In an episode of Speech at the red tablethe actress who played Stony reflected on the moment her character cut her hair in the film.
"Cut my hair Set it offSo that scene in particular I had already had so many losses and I had already lost so many friends, so I really reflected on the ones I loved that I had lost, you know, and how everyone can't make it and how you can be sitting with great luck and have so many losses have so much pain, "he said.
Inches for days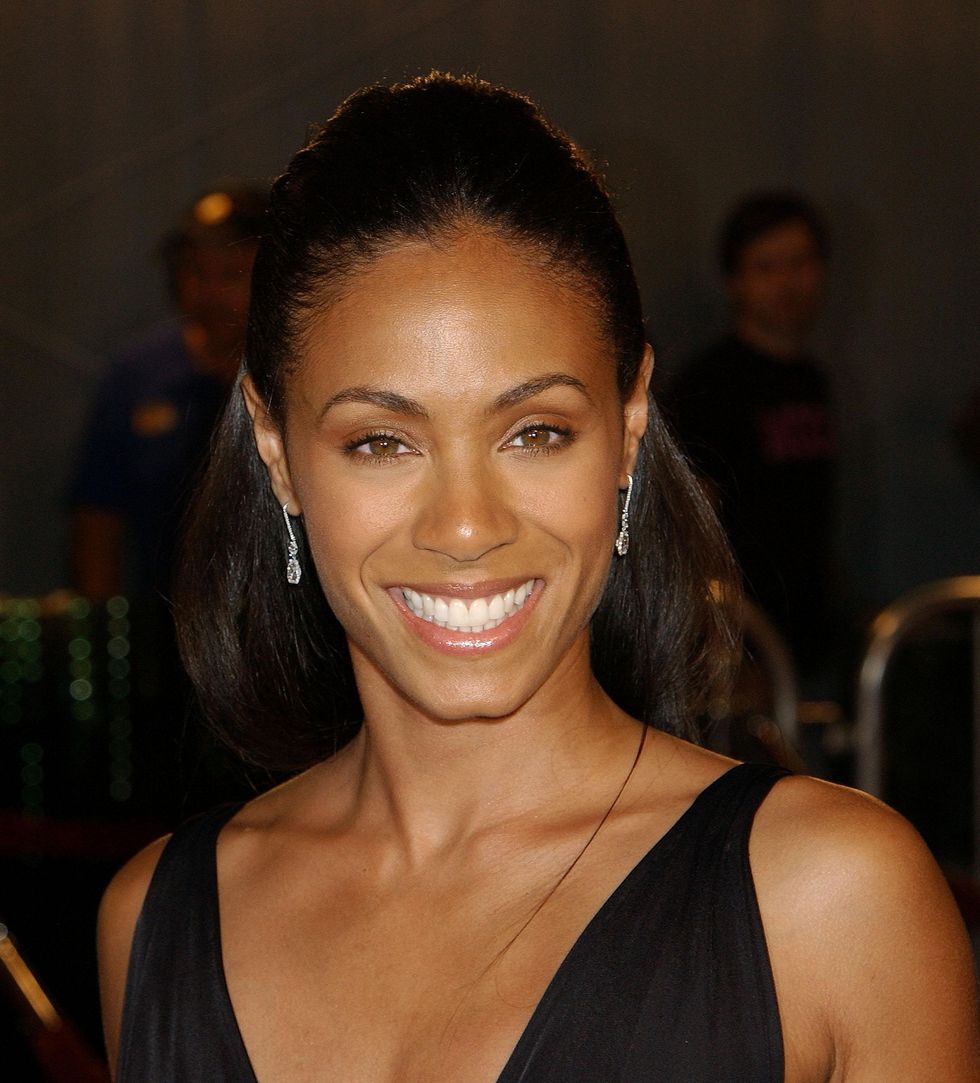 Jada Pinkett Smith in 2003.
Gregg DeGuire / WireImage via Getty Images
Between the early to mid-2000s, Jada was all about the length and rocking hairstyles that allowed her natural hair to grow. From tight curls to loose waves, to low buns and wearing it straight, Jada showed that her long locks had range for much of the decade.
Bald and Handsome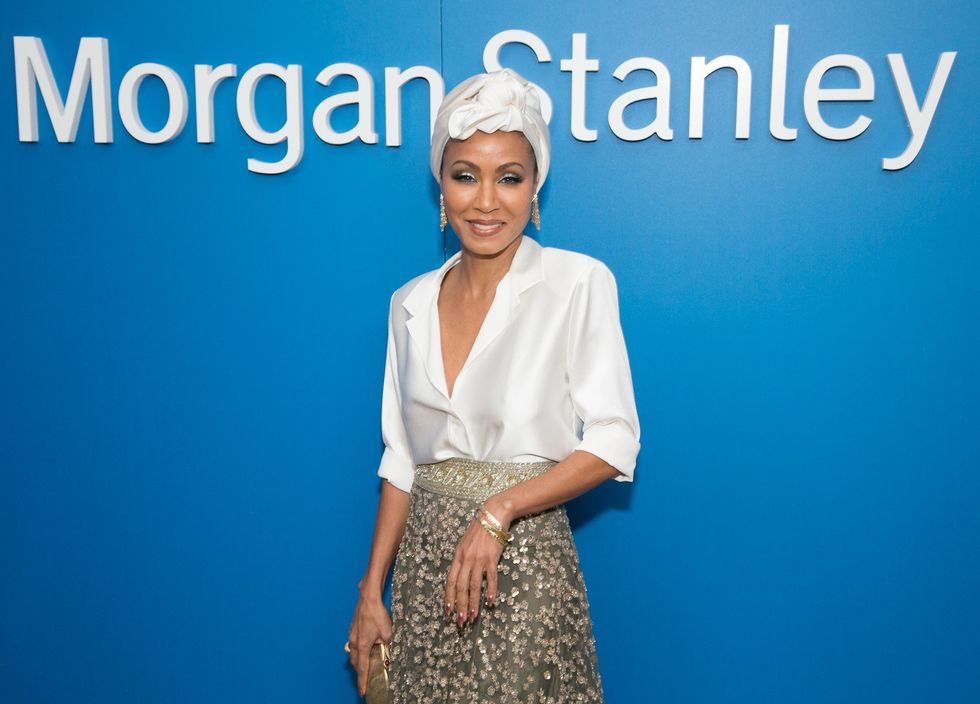 Jada Pinkett Smith in 2018.
Gabriel Olsen / WireImage via Getty Images
In 2018, the actress tearfully admitted on her Facebook Watch program that she suffered from hair loss. After trying to mask her hair loss by wearing turbans, she finally decided to get all her hair cut last year. She debuted the new look in an Instagram post of her with her daughter Willow.
"Willow made me do it because it was time to let it go BUT … my 50 years are about to be divinely enlightened with this shed," she wrote.
Featured image by Amy Sussman / WireImage via Getty Images
window.REBELMOUSE_LOWEST_TASKS_QUEUE.push(function(){
window.REBELMOUSE_STDLIB.loadExternalScript("https://ads.blogherads.com/static/blogherads.js", function() {
});
});
window.REBELMOUSE_LOWEST_TASKS_QUEUE.push(function(){
window.REBELMOUSE_STDLIB.loadExternalScript("https://ads.blogherads.com/sk/12/122/1225952/26164/header.js", function() {
});
});
window.REBELMOUSE_LOWEST_TASKS_QUEUE.push(function(){
window.REBELMOUSE_STDLIB.loadExternalScript("https://cdn.jwplayer.com/libraries/oYemHb8o.js", function() {
var video_count=0; function upDateJwplayerIframe(){ document.querySelectorAll(".widget__video:not(.jwplayer-proc)").forEach(function(video){ video.classList.add('jwplayer-proc'); if(video.querySelector("iframe[data-runner-src*='content.jwplatform.com']") || video.querySelector("iframe[src*='content.jwplatform.com']")){ let str = video.querySelector("iframe[data-runner-src*='content.jwplatform.com']")? video.querySelector("iframe[data-runner-src*='content.jwplatform.com']").getAttribute("data-runner-src"):video.querySelector("iframe[src*='content.jwplatform.com']").getAttribute("src"); console.log(str);
const regex = /players\%2F.{8}/g; str = regex.exec(str); if (str !== null) { let videoID = str[0].replace(/players\%2F/g, ''); video.innerHTML = ""; video.style.backgroundImage = "url(https://cdn.jwplayer.com/v2/media/" + videoID + "/poster.jpg)"; video.parentNode.classList.add('video_media_' + videoID); var playerDiv = document.createElement('div') playerDiv.id = 'jwPlayer_' + videoID +"_"+ (video_count++) + '_loaded'; video.innerHTML = ""; video.appendChild(playerDiv); var playerInstance = jwplayer(playerDiv.id); console.log("https://cdn.jwplayer.com/v2/media/" + videoID); playerInstance.setup({ //file: "//content.jwplatform.com/videos/"+videoID+"zpCh6x0y.mp4", //mediaid: videoID, playlist: "https://cdn.jwplayer.com/v2/media/" + videoID, autostart: "viewable", autoPause: {viewability: true, pauseAds: true}, image: 'https://cdn.jwplayer.com/v2/media/' + videoID + '/poster.jpg' }); blogherads.adq.push(function() { blogherads.monetizeJWPlayer(jwplayer(playerDiv.id)); });
} } })
}
function upDateJwplayerInBody(){ document.querySelectorAll(".body div[id^='botr_']").forEach(function(video){
if(video.parentElement.getAttribute('data-media_id')){ let str = video.parentElement.getAttribute('data-media_id')
if (str !== null) { let videoID = str; video.innerHTML = ""; video.style.backgroundImage = "url(https://cdn.jwplayer.com/v2/media/" + videoID + "/poster.jpg)"; video.parentNode.classList.add('video_media_' + videoID); var playerDiv = document.createElement('div'); playerDiv.id = 'jwPlayer_' + videoID +"_"+ (video_count++) + '_loaded';
video.insertAdjacentElement("beforebegin",playerDiv); video.parentNode.removeChild(video) var playerInstance = jwplayer(playerDiv.id); console.log("https://cdn.jwplayer.com/v2/media/" + videoID); playerInstance.setup({ //file: videoUrl, //mediaid: videoID, playlist: "https://cdn.jwplayer.com/v2/media/" + videoID, autostart: "viewable", autoPause: {viewability: true, pauseAds: true}, image: 'https://cdn.jwplayer.com/v2/media/' + videoID + '/poster.jpg' }); blogherads.adq.push(function() { blogherads.monetizeJWPlayer(jwplayer(playerDiv.id)); });
} } })
}
REBELMOUSE_STDLIB.createElementChangeListener(".mb-2", (el) => { upDateJwplayerIframe(); upDateJwplayerInBody();
console.log('run upDateJwplayerIframe & upDateJwplayerInBody'); });
});
});
window.REBELMOUSE_LOWEST_TASKS_QUEUE.push(function(){
function loadScript(src, callback) { let script = document.createElement('script'); script.src = src; script.setAttribute('data-dojo-config', 'usePlainJson: true, isDebug: false'); script.onload = () => callback(script); document.head.append(script); }
loadScript('https://downloads.mailchimp.com/js/signup-forms/popup/unique-methods/embed.js', script => { console.log('MailChimp Script Loaded'); window.dojoRequire(["mojo/signup-forms/Loader"], function(L) { L.start({ "baseUrl":"mc.us7.list-manage.com", "uuid":"178da277e40242a3477742b0c", "lid":"99906f1a3f","uniqueMethods":true }) }) });
});
window.REBELMOUSE_LOWEST_TASKS_QUEUE.push(function(){
// Quantcast Tag function loadScript(callback) { var _qevents = _qevents || [];
let script = document.createElement('script'); script.src = (document.location.protocol == "https:" ? "https://secure" : "http://edge") + ".quantserve.com/quant.js"; script.async = true; script.type = "text/javascript"; var scpt = document.getElementsByTagName('script')[0];
script.onload = () => callback(script);
scpt.parentNode.insertBefore(script, scpt); }
loadScript( script => { console.log('Quantcast Tag Loaded'); _qevents.push({ qacct:"p-GS-HF4BKvzCmv" }); });
});
window.REBELMOUSE_LOWEST_TASKS_QUEUE.push(function(){
var vglnk = {key: '135662ea7d51e79c1eb95280aac20b8b'}; (function(d, t) { var s = d.createElement s.type="text/javascript"; s.async = true; s.src="https://cdn.viglink.com/api/vglnk.js"; var r = d.getElementsByTagName r.parentNode.insertBefore(s, r); }(document, 'script'));
});
window.REBELMOUSE_LOWEST_TASKS_QUEUE.push(function(){
!function(f,b,e,v,n,t,s) {if(f.fbq)return;n=f.fbq=function(){n.callMethod? n.callMethod.apply(n,arguments):n.queue.push(arguments)}; if(!f._fbq)f._fbq=n;n.push=n;n.loaded=!0;n.version='2.0'; n.queue=[];t=b.createElement(e);t.async=!0; t.src=v;s=b.getElementsByTagName(e)[0]; s.parentNode.insertBefore(t,s)}(window, document,'script', 'https://connect.facebook.net/en_US/fbevents.js'); fbq('init', '318477121963716');
});
window.REBELMOUSE_LOWEST_TASKS_QUEUE.push(function(){
window.REBELMOUSE_STDLIB.loadExternalScript("https://xonecole-2.disqus.com/embed.js", function() {
(function() { var d = document, s = d.createElement('script'); s.src="https://xonecole-2.disqus.com/embed.js"; s.setAttribute('data-timestamp', +new Date()); (d.head || d.body).appendChild(s); })();
});
});
window.REBELMOUSE_LOWEST_TASKS_QUEUE.push(function(){
REBELMOUSE_STDLIB.createElementChangeListener(".widget__show-more",function(item){ REBELMOUSE_STDLIB.initClickHandler(item,function(event){ setTimeout(function(){ // your code here for xonecole following code blogherads.adq.push(function() { blogherads.reloadAds(); }); },300)
}) })
});
window.REBELMOUSE_LOWEST_TASKS_QUEUE.push(function(){
var ad__count=1; function reInitAds(){
document.querySelectorAll(".ad-tag__inner:not(.ad-proc)").forEach(function(item){
if(isElementInViewport(item,600)){ // console.log("trying to process ad: "+ad__count) console.log("adding ad codes") item.classList.add('ad-proc'); var ad_div=document.createElement("div"); ad_div.id="secondary_resoponsive_ad--"+ad__count++; item.appendChild(ad_div); if(item.getAttribute('data-pos')=="in_content"){ blogherads.adq.push(function() { blogherads.defineResponsiveSlot([ [[1050, 0], 'banner'], [[800, 0], 'banner'], [[320, 0], 'medrec'], [[0, 0], 'none'] ], ad_div.id).display(); }); } else{ blogherads.adq.push(function() { blogherads.defineResponsiveSlot([ [[1050, 0], 'banner'], [[800, 0], 'banner'], [[320, 0], 'tinybanner'], [[0, 0], 'none'] ], ad_div.id).display(); }); } } }) }
function Ithrottle (callback, limit) { var wait = false; return function () { if (!wait) { callback.apply(null, arguments); wait = true; setTimeout(function () { wait = false; }, limit); } } } window.addEventListener("scroll", Ithrottle(function(){ reInitAds() },200));
});
window.REBELMOUSE_LOWEST_TASKS_QUEUE.push(function(){
window.REBELMOUSE_STDLIB.loadExternalScript("https://cdn.whizzco.com/scripts/widget/widget_v3.js", function() {
});
});