Before the war, Igor Mezencev liked to go into the forest with the best chefs in Ukraine, armed with only four ingredients – salt, sugar, vinegar and oil – and tried to cook fine cuisine in the wild.
Now that his city of Kharkiv is being heavily bombed, Mesencev is confined to his high-rise apartment. But with whatever ingredients he could find, he continued to cook and invent—baking bread from untoasted buckwheat groats, cooking on his balcony, and reviving childhood recipes. He says this helped him deal with the terror of the shelling and airstrikes.
"Cooking helps regulate my nervous system," the 33-year-old said in a journal he shared with the observer. "But there's this constant pain in the back of my head. They say it happens under extreme stress."
Mezencev now lives alone with his ailing French bulldog Yosik after he and his girlfriend Ania decided that she should evacuate to the safer city of Lviv.
Shortly after war broke out and shells exploded all around them, he took stock of his grain, fish, and meat supplies and felt well prepared. The freezer was full and he announced on Instagram that he was ready to bake bread and cook for people. "But then," he writes, "a catastrophe struck. One of the missiles hit the power plant and our district was without power."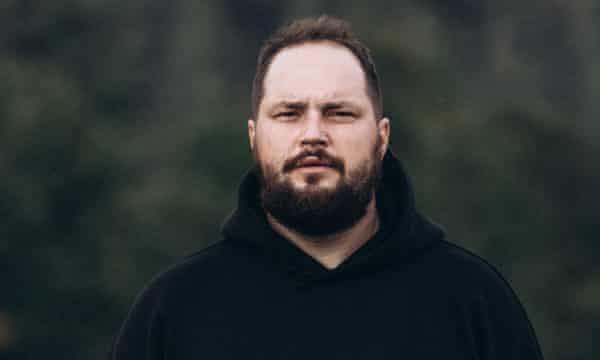 So he pulled out a camp stove he had been using in the wilderness for Topot, his cooking expedition project, and began making soup and coffee on the balcony, in "a new way of living and surviving." When their supplies ran out on the sixth day of the war, they took meat out of the freezer and began to salt some of it and process the rest tushonka – similar to French confit.
Traditionally, in Kharkiv in March under the windows, a "celebratory spring greetings barbecue" is held. But this year, Mezencev said, instead of doing traditional shashlik, people used grills to heat canned food and water to wash. "It was so heartbreaking to see," he writes. "It finally dawned on me: We live in a war zone."
In the following days, as soon as the curfew ended at 6 a.m., queues of up to 1,000 people formed outside the shops, and when the supermarket opened at 9 a.m., it let in 10 people at a time. Then they had to wait another two hours to pay with the card because the ATMs are empty.
After walking the 3km home with around 50kg of food, he and Ania saw more queues – for humanitarian aid – and split the supplies between them and their parents.
When planes bombed the city center and smashed the windows of the Iskra bar where Mezencev worked, he realized he couldn't go to work anymore and needed to be able to help from home. Instead, he became a "sofa activist". He started helping the World Central Kitchen charity by connecting them with logistics companies and supermarkets.
When he ran out of flour and yeast and finding it almost impossible to get to a supermarket, he decided to make his own flour from untoasted buckwheat groats instead. "One of our local supermarkets sells a buckwheat baguette. But I think mine turned out a lot better than hers – I vowed to share my recipe with the supermarket once it's all over!"
Now, he says, there is no more buckwheat, but he managed to get live yeast and bake bread with wheat flour.
On the 25th day, they decided that Ania should leave for Lviv and he would stay with Yosik, who would not survive a 24-hour train journey. They drove through the devastated city to the train station, where they saw "a thousand abandoned cars." Then they said goodbye. "We hugged and started crying," he writes. "Again unbearable. These things shouldn't be possible. War is so evil."
Mesencev's parents stay with his brother in Kharkiv, in an area he cannot reach, and Ania's parents are nearby.
After Ania's departure, he went back to her apartment, where he hugged Yosik tightly while rockets banged in the background, and cooked the food that his mother had prepared since childhood: borscht, boiled buckwheat and stewed chicken with garlic.
"We will have enough food and stocks of produce for a month," he said observer. After that he hopes to go to work.
"I'm still a chef and I'm still a dreamer. I'm sure we'll win soon and get even better and definitely stronger," he said.