SSince opening our doors 10 years ago, our Fish, Wings & Tings restaurant has grown into a hub in the Brixton Village community, a place where you can enjoy great Caribbean food and a rum punch (or two). Last summer we opened a second location in the village, Danclair's Kitchen. We source all our ingredients locally, from the brilliant tradespeople who call Brixton Village home. Both restaurants are heavily influenced by my childhood in Trinidad and Tobago, where life revolved around cooking and eating with family. I hope today's recipes can bring some of that joy into your home.
Cod Fritters with Ginger and Lime Aïoli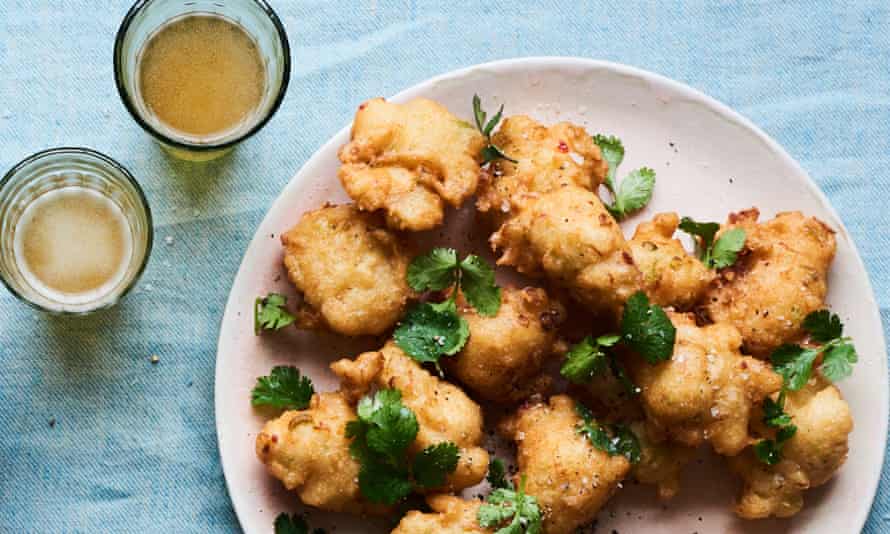 preparation 10 mins
soaking 8 hrs+
a cook 30 minutes
serves 4
For the donuts
350 g salted cod
3725 g self-raising flour
1½ tsp baking powder
1 heaped Tsp caster sugar
1 tsp sea salt
1 large onionpeeled and diced
1 bunch of spring onionstrimmed and finely sliced
1-2 Scotch Bonnet or Habanero chilliesor finely chopped to taste (if you prefer less heat, remove and discard the pulp and seeds)
1 liter vegetable oilto fry
For the aioli
500ml Good mayonnaisehomemade or bought
5cm piece of fresh gingerpeeled off
1 scotch bonnet pepper
50 g powdered sugar
25-30 ml clear white vinegar
juice of 1 lime
Soak the stockfish in cold water overnight, changing the water at least once. The next day, drain the fish and place in a tall bowl that will fit nicely. Cover with just boiled water, rehydrate and cool for 15 minutes, then strain. Set aside in one piece for now.
Meanwhile, place all the aïoli ingredients in a blender and puree until smooth – you want the mixture to be fairly fluffy for ease of dipping.
In a large bowl, mix together the self-raising flour, baking powder, sugar, and salt. Shred the cod and add to the bowl with the onions, spring onions and chillies, then gradually mix in 750ml water, continuing to mince the fish until there are no lumps and the batter is thick but runny enough to pull through fingers to slide.
Put the oil in a deep saucepan and heat to 75-80°C (or if a small piece of bread starts bubbling as soon as you drop it in). With wet hands, squeeze small balls of batter mixture and drop into oil, being careful not to burn yourself. Fry in batches for two to three minutes, turning regularly, until the donuts are golden brown and cooked in the middle. Use a slotted spoon to transfer the cooked donuts to a paper towel-lined plate to drain and keep warm while repeating with the remaining batter.
Place five or six donuts on each plate and serve with aïoli ramekins for dipping.
curry goat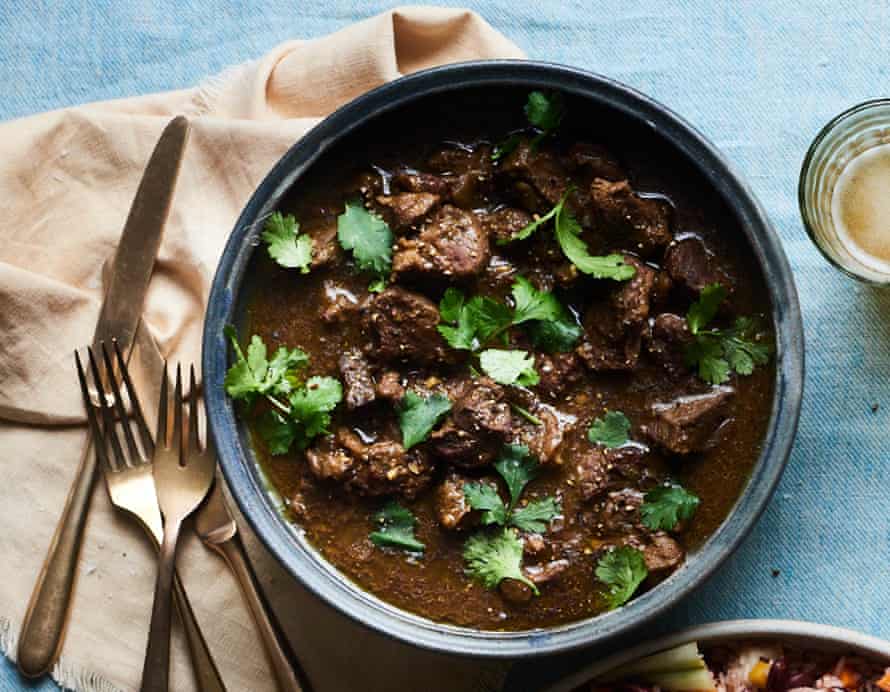 preparation 10 mins
Marinate 8 hrs+
a cook 2 hrs 30 mins
serves 4
1 kg goat, leg of your choice, boned and cut into 3-4 cm pieces (ask the butcher to do this for you); Mutton or lamb would also work
5 cloves of garlicpeeled and chopped
juice of 1 lime
1 tsp ground cumin
1 tbsp Madras curry powdermild or spicy, depending on your taste
1 Scotch Bonnet Chili
2 tbsp vegetable oil
1 large onionpeeled and chopped
1 liter of chicken broth
salt and black pepper
Place the goat in a large bowl, add the garlic, lime juice, cumin and curry powder, cover and marinate for 24 hours. If you want a little extra heat, finely chop and add the Scotch Bonnet; Otherwise, leave it whole and add later when the broth goes in.
When ready to cook the curry, place the oil in a large saucepan or similar over medium-high heat, then sauté the onion for about 10 minutes, stirring frequently. Add the marinated goat and cook, stirring, for about 15 minutes to brown the meat all over and intensify the flavors. (Depending on the age of the goat, it may shed some liquid at this stage.)
Pour the broth over the meat, season to taste and bring to the boil. Turn the heat down, cover the pan and simmer until the meat is tender and tender, about two hours; If at any point the sauce looks dry, add water as needed. Serve hot with rice and peas.
rice and peas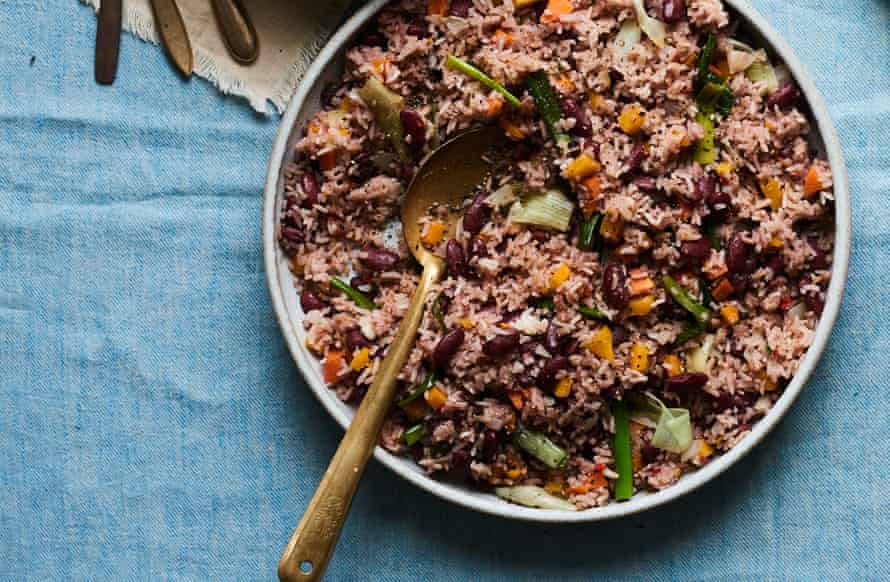 preparation 10 mins
soaking Over night
a cook 1 hour 30 minutes
serves 4
250 g dried kidney beans
8 cloves of garlicpeeled off
1 large onionpeeled and diced
1 Scottish Toque chiliPith and seeds removed and discarded, flesh finely chopped
1 large carrottrimmed, peeled and diced
200g shelled pumpkin fleshdiced
1 bunch spring onionspeel and cut into 5 cm long pieces
125 g coconut butterto dice
650 g long grain rice
1 tablespoons sea salt
Place the beans in a bowl, pour cold water over them and soak overnight. The next day, drain the beans, place in a large, heavy-bottomed pan and cover with fresh water 1 inch. Bring to a boil, then simmer on low and cook for 45 minutes until beans are tender (cooking time will vary depending on the age of the beans so it may take a little longer).
Add all other ingredients to the saucepan, bring to a boil again, then reduce heat, cover and cook over very low heat until rice is tender and most of the liquid has been absorbed, about 30 minutes. Serve hot.