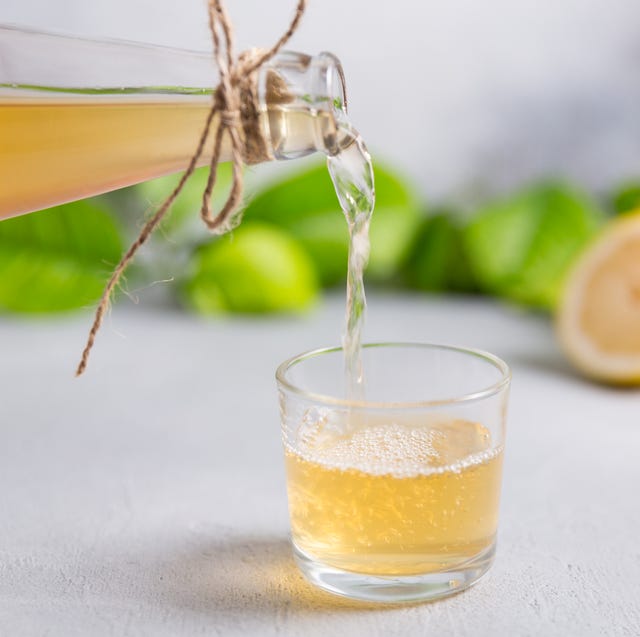 Yulia NaumenkoGetty Images
Collectively known as the microbiome, trillions of microbes from thousands of different species live in the body, especially in the gut. "The microbiome plays an important role in functions such as digestion, the immune system and vitamin synthesis," says Marisa Moore, MBA, RDN, LD, culinary and integrative dietician in Atlanta, Georgia. "Our microbiome is constantly evolving, and researchers seem to agree that the diversity of these microbes is a good thing for our overall health."
Most of the time, this community of bacteria, fungi, parasites and viruses coexist peacefully. But disease, diet, or medications can cause a disturbance in the microbiome, which can make you more susceptible to disease. Some research shows that probiotics can help restore the balance between good and bad bugs.
One of the best ways to make sure you're getting several beneficial microbes is to aim for variety in your diet, says Moore. Probiotic foods, which contain beneficial live microbes, are abundant in foods such as yogurt, kimchi, kefir, pickled vegetables, tempeh, kombucha tea, miso, and sauerkraut. Prebiotic foods, which are plant fibers that feed intestinal bacteria, are also important because they are the "food source" for good bacteria. You'll find them in foods like bananas, onions, garlic, asparagus, and whole grains like wheat, oats, and barley.
But if you're on the go and aren't the best at eating right every day, you may be able to increase the amount of good microbes in your body with probiotic supplements or drinks. Look for the words "live active cultures" on the label, as well as a variety of probiotic strains such as Lactobacillus, bifidobacterium, And Saccharomyces boulardii. If you need to avoid dairy, there are plenty of non-dairy options available as well. Compare nutrition facts, serving sizes, and cost to find one that fits your needs. Also, keep in mind that the FDA does not regulate probiotics or approve any health claims. But if you are in good health, there is generally no harm in trying these drinks.
Next, our top picks for the best probiotic drinks:
1
Lifeway low fat kefir, simple
This kefir contains 110 calories and 11 grams of protein per cup with live active cultures. With no artificial flavors, preservatives, or sweeteners, it's a healthy choice and also comes at an affordable price, containing four servings per 32-ounce container. It comes in several flavors including plain, raspberry, and blueberry.
2
KeVita Master Brew Kombucha, Ginger
If you're looking for something lighter and fizzy with a little ginger, this probiotic drink contains live probiotics and stevia plant extract instead of artificial sweeteners. It comes in almost any flavor you can imagine, including lemon, blueberry, and pineapple.
3
Strawberry and Banana Chobani Greek Yogurt Drink
This budget option comes in several flavors including mixed berry, mango, and peach. It contains no artificial flavors or sweeteners and is only 140 calories with 10 grams of protein and live, active cultures. The single serving portions make it easy to grab and take away as a mid-morning or afternoon snack.
4
Suja Suja Passion Fruit Cold Pressed Sparkling Wine
If you simply don't like the texture of drinking yogurts, this juice drink has live probiotics and real juice as a sweetener. It's a refreshing break from plain old water, at just 60 calories.
5
Organic Kombucha Synergy
This hugely popular kombucha, launched more than 25 years ago, contains only tea, juice and yeast and is available in 40 different flavors. It's a great option if you need to avoid dairy but still want a quick probiotic boost.
6
Culture Pop sparkling probiotic soda
If you're looking to wean yourself off sugary soda, this drink contains real juice, herbs, and water, as well as billions of live probiotics. At just 40 calories, you won't feel bad about indulging. Five different varieties include grapefruit, orange mango, watermelon lime, berry and lemon ginger.
7
Forager Project organic cashew milk probiotic drink
If you're looking for a dairy-free alternative, this vegan drink contains live active cultures, cashew milk, and cane sugar with no artificial ingredients. It is available in plain or four flavors including blueberry, strawberry, mango and blackberry.
8
Nice straight shot
If you want the potential benefits of probiotics but don't like yogurt-style drinks or kombucha, this 3-ounce "hit" contains live active cultures for just 30 calories. There is no added sugar and it is vegan.
9
Olipop Classic Root Beer Sparkling prebiotic drink
If you've promised to forgo sodas but crave every now and then, this prebiotic drink offers a sweet sip for 50 calories and 2 grams of sugar. It also contains no artificial sweeteners, colors, flavors or preservatives. Reviewers are thrilled with how much the real deal tastes but without all the sugar.
10
Complete drink with Chobani Greek yogurt
Containing prebiotics and probiotics, this Greek yogurt drink also boasts 25 grams of protein, so you'll feel full for longer. It's a denser texture than some drinks and comes in several flavors, including strawberry cream and mixed vanilla. It's sweetened by monk fruit and stevia and contains 190 calories per 10-ounce bottle.
11
Kombucha tea remedy
This popular brand, made in Australia, contains live active cultures and all organic sugar-free ingredients. It comes in fun flavors like raspberry lemonade, peach, cherry plum, and ginger lemon. At just 7 calories, it's a refreshing, near-calorie-free way to soak up probiotics if you're not a huge fan of yogurt-based drinks.
12
Humm Probiotic Zero Sugar Kombucha
This fizzy probiotic drink contains plant-based sweeteners and is only 10 calories with zero sugar. It's a little pricey, but comes in four crowd-favorite flavors, including peach tea, ginger lemonade, raspberry lemonade, and blood orange.
13
Get Doctor Kombucha ready
This kombucha is USDA certified organic, made from loose leaf tea, botanicals, fruits and juices. The island mango flavor features the bright tropical flavors of mango, passion fruit and ginger. It's only 80 calories and it's made by a company that is a zero emission B certified company and a 1% member to the planet.
14
Maple Hill Creamery 100% Organic Grass Fed Kefir
This organic grass-fed kefir has a creamy and naturally sweet texture. It contains no hormones and nothing artificial. Because it's made with whole milk, it tastes richer and contains 180 calories and 9 grams of protein for an 8-ounce serving.
15
Karma Flavored Probiotic Water
For a refreshing sip, this flavored water contains both probiotics and vitamins such as A, C and B. The patented pressure cap allows you to mix the active ingredients right before use, instead of being premixed, which the company says allows the ingredients to maintain potency. The 12 pack includes flavors of berry cherry, strawberry lemonade, blueberry lemonade, kiwi melon and tropical coconut.
This content is created and maintained by a third party and imported on this page to help users provide their email addresses. You may be able to find more information about this and similar content on piano.io